"Tailor made Wedding service" that produces your high-class individuality and preference.

Luxury and dignified wedding hall with its special lighting and sound system will satisfy your fantastic wedding ceremony.
Large and elegant bride waiting room, refined room for the bridegroom's family respecting event just after the wedding, comfortable VIP waiting room and the perfect style of wedding interior. Modern style menus cooked by chefs of the Five Star hotel Restaurant using picked high quality ingredients will impress each of you with the greatest satisfaction.

There are level of dignity in wedding ceremony.
Please feel free to relish the high-class wedding ceremony at Grand Plaza Cheongju Hotel which proposes a reasonable price for the Five Star hotel's specific Wedding Services.

Privileges given to the Hotel Wedding
Please be advised that Grand Plaza Cheongju Hotel provides the following benefits (with free of charge) to the hotel wedding clients.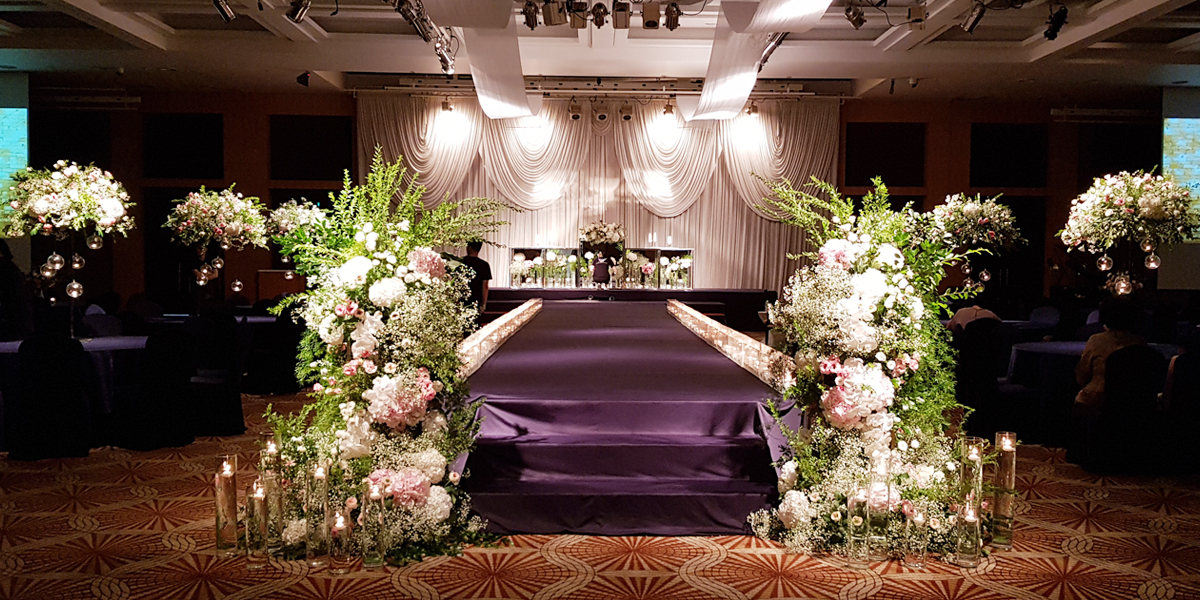 Free of charge Benefits
1. Wedding hall
2. Suit Room for one-night to the bride and groom
3. Wedding stage
4. The room for the bridegroom's family respecting event(pyebaek room including traditional pyebaek dresses)
5. 200-inch big size screen and beam projector
6. Wedding stationary (guest book, marriage oath, marriage declaration file, ceremonial gloves, envelope, etc.)
7. Wedding events (fog and champagne shower)
8. Two deluxe rooms for 3~5 hours are to be provided with free of charge for the families of the bride and the bridegroom to prepare the wedding ceremony
9. Six sets of Western-style course meals worth KRW55,000 per person at Sky Lounge

Special Benefits
Grand Plaza Cheongju Hotel provides enough time over two hours for wedding ceremony in order not to cause any chaotic circumstances caused by a possible congestion with the following others' wedding events, which would guarantee your dignity in the wedding ceremony.
Others
You are eligible to choose all or one of the above options with free of charge, except for the meals.
Grand Plaza Cheongju Hotel chefs are cooking raw ingredients by themselves on the spot, and does not allow to provide instant foods.
The parking capacity of Grand Plaza Cheongju Hotel is up to 1,200 cars at the same time.


Wedding Hall
Grand Plaza Cheongju Hotel operates several types of banquet halls such as a large banquet hall that can accommodate up to 600 guests, middle sized halls and small sized rooms which can be selectively booked by the meeting purpose and/or scale.
We are to produce a fantastic festival events for you at the elegant and well refined our wedding halls which are equipped with modernized audio sound systems as well as special lighting systems
Grand Royal Wedding
First! Grand Royal Wedding for VIP clients.
Grand Royal Wedding
The sufficient wedding time of two hours plus another two hours (altogether four hours) to celebrate the reception party with meals afterward at the same hall.
Second! Grand Luxury Wedding for substantial clients.
Grand Luxury Wedding
For those clients holding a small-wedding at Jikji Hall or Uam Hall, we provide an Annex Hall for the reception party after the wedding ceremony.
(Uam Hall can accommodate a small wedding up to 50 guests)
Wedding Menu
The most precious moment in your life! The most beautiful your dream comes true at Grand Plaza Cheongju Hotel.
Four-Hour Wedding for the wedding and the following reception party at the same hall.
The sufficient wedding time of two hours, which allows to celebrate the wedding ceremony for two hours and the reception party with meals afterward for another two hours at the same place.
Western food for weddings : ₩66,000 / ₩77,000 / ₩88,000 / ₩99,000
Buffet for weddings : ₩55,000 / ₩66,000 / ₩77,000 / ₩88,000
Three-Hour Wedding
For those clients holding a wedding for one-hour at Grand Ballroom or Jikji Hall, we provide an Annex Hall of JuSeong for the reception party with buffet foods for another two and half hours after the wedding ceremony.
Buffet for weddings : ₩42,000 / ₩55,000 / ₩66,000 / ₩77,000 / ₩88,000
Grand Plaza Cheongju Hotel Wedding
Items
Three-Hour Wedding
Four-Hour Wedding
Wedding hall available
3F Jikji Hall
3F Grand Ballroom
Wedding time
Wedding : 1 hour


Meal: 2 hours & 30 min

Wedding : 2 hours


Meal: 2 hours

Wedding hall fee
Free of charge
Pyebaek room fee
Free of charge
Wedding stationary (guest book, marriage declaration file, etc.)
Free of charge
Special effects (3-tier cake, fog)
Free of charge
Bouquet & boutonniere & corsage
Host's Option (Hotel can recommend its cooperative studio to the host if requested)
* The host can make unconstrained choices as a studio, dress and make-up are not a package service.
* Snaps of the actual wedding not included.
* Make-up for wedding hosts not included.


※ Please contact the studio for detailed cost estimation

Dress (tuxedo + wedding dress)
: Additional fee is charged when new and wedding dress are selected.
Make-up
Wedding photos (Studio)
Pyebaek food and pyebaek assistant
Prepared by the host.
Hanbok of bride and bridegroom
Prepared by the host.
Pyebaek outfit
Provided by the hotel.
Wedding assistant
Prepared by the host.
When officiant & MC are casted
100,000 KRW
Performance
BGM: Background Music
Provided by the hotel.
String performance
300,000 KRW for trios(100,000 KRW per instrument)
Floral Design (Artificial flower) for worth KRW500,000
Free of charge
Floral Design (Natural flower)
Host's Option
Meal expenses
Buffet starting from 42,000 KRW per person.
Buffet starting from 55,000 KRW per person.
Western meal starting from 66,000 KRW per person.
Minimum number of people should be guaranteed
200 people
300 people
Drinks(liquor and beverage)
Free of charge for 1 bottle per person. Exceeding the number of people, Liquor 4,400 KRW and Beverage 2,200 KRW per bottle.
* Drinks (Coke, cider): 2,200 KRW
* Alcohol (Soju, Beer): 4,400 KRW
Extra Special Benefits to the host of Wedding
Junior Suite Room (1 room, the day before or the wedding day)
Replaceable with 2 deluxe rooms
Deluxe Room (2 rooms, waiting room on the wedding day)
3 hours/ free of charge
Western style course dishes at Sky Lounge
Up to 6 persons /free of charge on the wedding day

(55,000 KRW per person will be charged in case of exceeding 6 persons)
Banquet Reservation Office
☎ 82-43-290-1100