JungWon Duty Free Shop
JungWon Duty Free Shop at the Lobby of the Grand Plaza Cheonju Hotel, leading the trends of shopping and culture, has a wide variety of famous brands to choose from around 100 kinds of goods such as imported luxury fashion brands, cosmetics and perfumes, fashion clothing goods, accessories (watches, jewelry, bags, sunglasses), liquor, cigarettes, electronic products, traditional folk art articles and so forth.
Please visit JungWon Duty Free Shop where shopping and culture are coexisting. You can also enjoy here other Five-Star Hotel facilities of high-class restaurants(Korean, Chinese, Italian), lounges(Lobby Lounge and Sky Lounge), fitness center (health, swimming, exercising golf, and sauna) etc. as well as can watch latest movies always at modernized CGV theater.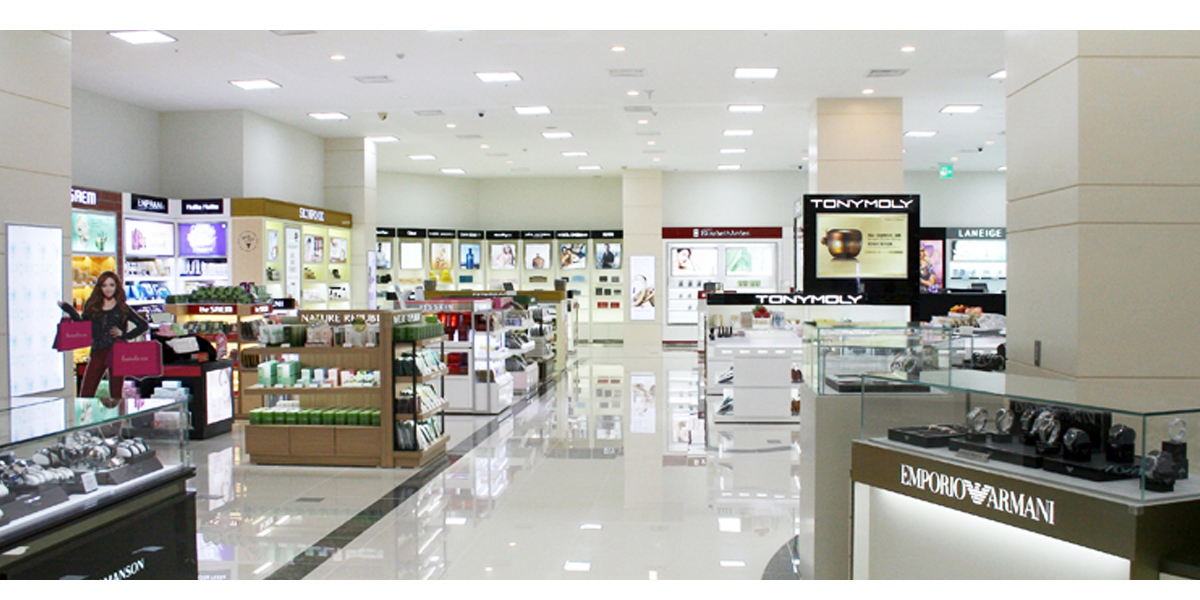 Shop Layout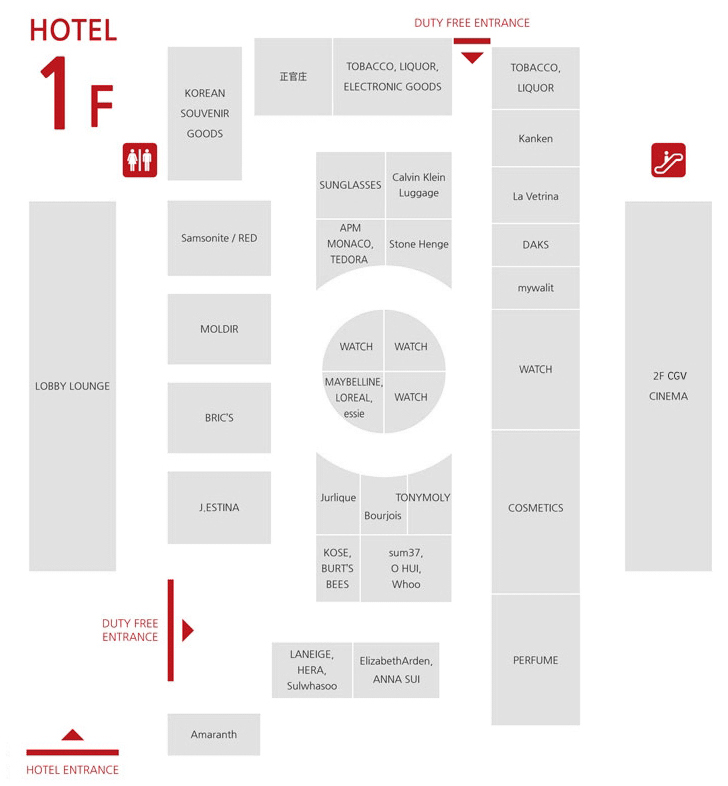 JungWon Duty Free Shop Customer Guide
Eligible customers : Everyone planning to go out of Korea, having passport and boarding pass, can relish the duty free conditions via purchasing goods at JungWon Duty Free Shop

Shopping Limit : Korean residents who are to travel overseas can purchase up to USD5,000 per person, Non-Korean residents: No shopping limit is bound

Duty Free Limit of Korean residents : USD600 per person

Available shopping period by departure port : Incheon Airport . two days before departure / Cheongju Airport . one day before departure

Necessary documents for shopping : Passport and boarding pass

How to receive the purchased goods : Pick up at the delivery point of duty-free goods at the airport/port before boarding airplane/liner.
Available methods of Payment : Payment to purchase goods is acceptable with Korean won, US dollar, yen, yuan, credit card and debit card
Shopping Guide at JungWon Duty Free Shop
The guest of Grand Plaza CheongJu Hotel is eligible for a special discount up to 50% off the list price depending on the goods.
The special offer is to be given to all who simply display the receipts issued by Grand Plaza CheongJu Hotel for rooms and restaurants.
Please feel free to come and take look at the famous international brand-goods. Window shopping at JungWon Duty Free Shop is allowed to everyone without restriction even though you do not hold the passport and boarding pass (ticket) at the moment.